The fastest game on two feet returns to ESPN America – Major League Lacrosse is back, opening with the MLL All-Star Game on June 30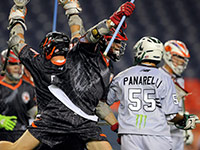 Major League Lacrosse (MLL), the premier professional outdoor lacrosse league in the United States, lights up ESPN America in June. Melding a long history of tradition with modern-day innovations, lacrosse delivers a season of fast-paced, high-scoring action that is second to none. Players hail from all across the U.S., led by talents from Johns Hopkins, Cornell and other top academic institutions known for their strong lacrosse programs.
ESPN America features coverage this month of the MLL All-Star Game, a showcase for the sport's top talents to be played June 30 at FAU Stadium in Palm Beach County, Florida. The regular season continues in July and August, with late August featuring the MLL Championship Weekend. The addition of teams from Charlotte and Ohio brings the league to eight, promising a season that will be more competitive than ever.
Catch coverage of the MLL All-Star Game on June 30, followed in July and August by more regular season action with up to three games per month. The season closes with MLL Championship Weekend on August 25 & 26. Check www.espnamerica.com for starting times in your region.

In het dagelijks leven web developer en naast de vele sporten die ik zelf beoefen probeer ik nog wat, voornamelijk, Amerikaanse sporten op de gevoelige plaat vast te leggen. Baseball en Football zijn de twee sporten die ik het meest volg. Zo nu en dan probeer ik ook een Basketball of Hockey wedstrijd mee te pakken.
Mocht je een leuk evenement hebben en een fotograaf zoeken dan kan er altijd even contact worden opgenomen met me om te kijken of ik beschikbaar ben.
Website: xiphias.net
back to top